ALSAFA STORE COMPANY LLC - Tender Division
Al Safa Company Tender Division provides a wide range of pharmaceutical products, Medical devices, and,supplies to all government medical entities in Saudi Arabia and the Gulf region.
Our Products portfolio includes
1. Al Safa registered pharmaceutical and medical supplies items
2.

Non-registered pharmaceutical drugs as well as the shortage-listed in Saudi Food and Drug Authority (SFDA).
Al Safa Co. has partnered with dozens of pharmaceutical suppliers from Europe, UK , North America, and the Far East countries providing a reliable, global source of branded and generic pharmaceuticals

Al Safa Co. work with pharmaceuticals, biotech, and device companies on a global basis, providing them with specialist services across international sourcing and supply
Al-Safa Co is supplying :
Branded and generic medicines." In shortage list in Kingdom of Saudi Arabia "which are FDA, EMA and MHRA registered.

Unlicensed Drugs (NLM) in Saudi FDA.

Medical supplies, SFDA registered.
Our Business
Al-Safa Store Co. has developed a medical supply division to help businesses stay ahead in customer medical services satisfaction by supplying over-the-counter and prescription medicines, and medical supplies regularly.

We provide cold chain pharmaceuticals with the best transportation and monitoring systems by using data logger devices to track the temperature and ensure that the deliveries are kept under the right storage conditions and transportation.

B2B

Business

sector:

Tender

Stakeholders

including

– not limited to,
Stakeholder

Coverage

National Unified Procurement Company "NUPCO"​

All Regions of Saudi Arabia

Ministry of Health Hospitals and Medical Cities

Ministry of Defense Hospital and medical cities

Ministry of Interior Hospitals

Universities Medical Cities and centers

ARAMCO Johns Hopkins Aramco Healthcare (JHAH).

GULF Health Council

All GCC Countries
Tender Purchasing Order journey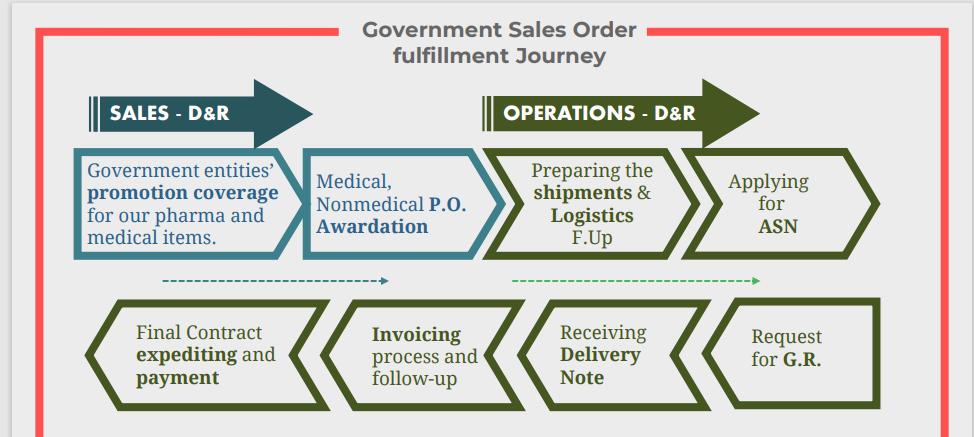 Our main clients